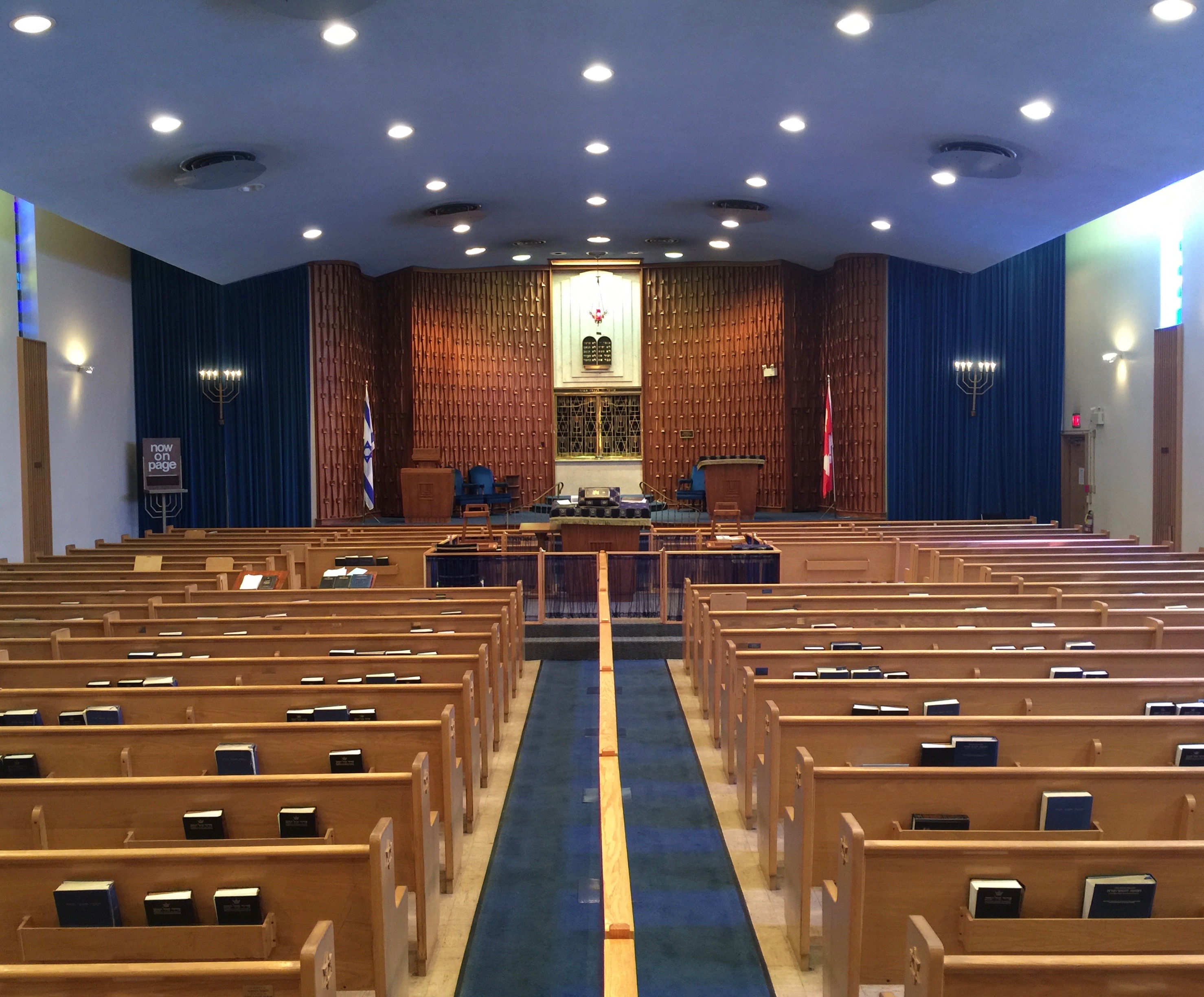 Beth Jacob Congregation

of




Kitchener-Waterloo
Beth Jacob Congregation has been serving the Jewish community of Kitchener-Waterloo and Cambridge for more than a century. Founded in 1908, Beth Jacob is a modern Orthodox synagogue with congregants from different observances.
weekly services at beth jacob

Regular minyan times (other minyamin may vary)
FRIDAY EVENINGS
♦ winter - approx 4:30pm to 6:00pm (varies)
♦ summer - 7:00pm to 8:00pm
SHABBAT MORNINGS
♦ 9:30am to 11:00am
♦ No regular Kiddush lunches at this time
No pre-registration required, all are welcome
---
---
JLI Classes with Rabbi Goldman!
Next class will be held Sunday November 27th, please join us!
A message from Rabbi Moishy Goldman:

Wouldn't it be nice if there was a place in KW where Jews could gather to have an intelligent conversation about these questions? A place to listen to each other's thoughts, wrestle with the Torah's texts, and expand our understanding? A place to grow and be spiritually nourished?
SURPRISE! We have such a place. Come to the first class of this course, free of charge, and see if it's for you.
12:00 PM Sundays at Beth Jacob. I will be teaching this course about G-d (I don't think I've ever written such a presumptuous statement in my life, but humour me, please...) and it will be a really fun and profound ride for us all. There's a seat for you - join us!
Please let me know if we should expect you for the free trial; or sign up for the full 6 weeks (you can participate in person or virtually) at myjli.com/learn/waterloo.
I would be delighted to see you there.
Scheduled class dates:
Sunday November 27
Sunday Dec 4
Sunday Dec 11
Sunday Dec 18
MACCABEATS - SATURDAY DECEMBER 10TH!
We've got some very exciting news to share: On Saturday night, Dec. 10 (after Shabbat ends) Chabad and its community partners, Beth Jacob and the WRJCC, are hosting a pre-Chanukah concert featuring the world famous a cappella singing group, THE MACCABEATS! You may be familiar with their "Candlelight" hit, or their more recent parody "The Latke Recipe," both shown below. This will be a family friendly event and everyone is welcome! Doors open at 7:30 PM for a Latke Bar social, and showtime is at 8:30 PM. Tickets are on sale now at jewishwaterloo.com/tickets - get yours now!
yad vashem posters - an update
FROM MONSIGNOR DOYLE:
We, at Monsignor Doyle, would like to thank you for sharing the poster display with our school community. It was a rich learning opportunity that caught the interest of our students. Students were engaged in conversations with each other, and especially enjoyed the visuals that were included on the posters.
The Yad Vashem Holocaust posters have now been displayed for a week in each of Monsignor Doyle Catholic Separate School and Resurrection Catholic Separate School. We are still awaiting more detailed reviews but informally, we've been told that the display is "important", "extremely educational", "excellent" and much appreciated by both teachers and students. During the coming month, the posters will be displayed in Huron Heights, Forest Heights, Waterloo Collegiate and Grand River high schools in the public school sector.
2022-2023 ANNUAL MEMBERSHIP DUES
The 2022-2023 Annual Membership Dues letters have been mailed and dues paid between November 1 and December 31 will receive a tax receipt for 2022. Your support is truly appreciated and is critical to the functioning of the synagogue.
To pay online via PayPal, please click here.
REGULAR IN-PERSON services at beth jacob

In-person services continue at Beth Jacob! We welcome everyone to attend, no pre-registration is required and guests are welcome!
In order to help protect and safeguard the health of our members and guests, the wearing of face masks covering the nose and mouth remains mandatory indoors at the shul for all persons over the age of 2


Adult sized masks are available but we regret we do not have any child-sized masks

We do ask everyone who attends: i

f you have any fever or signs of illness, please stay home until you feel

better

Hand

sanitizer is provided throughout the building

Siddur and Chumash will be available for your use should you require them

Kippah are now available on site, and you are welcome to store your tallit at Beth Jacob

Children of all ages are welcome, but we ask that parents continue to supervise their children under the age of 12
Beth Jacob remains committed to following the guidelines and protocols as issued from our federal, provincial, regional and municipal authorities and public health experts. Thank you for your continued understanding and support.
WEEKLY SERVICES SCHEDULE AT BETH JACOB
Haftorah and DVAR TORAH SIGN UP Sheet
office hours

The office is normally open:
Mondays to Thursdays, 9:00am to 12:00pm
The office is not open on Sabbath and Major Religious Holidays and phones and emails are not answered on those days. We apologize for any inconvenience this may cause.

Should you require urgent burial assistance for a loved one,
please contact us through Dignity Memorial's 24 hour
answering service at 519-743-8900.
---
---
---
Mon, November 28 2022
4 Kislev 5783
There are no upcoming events at this time.
---
This week's Torah portion is

Parshat Vayetzei
Candle Lighting
Havdalah
Motzei Shabbat, Dec 3, 5:36pm
Shabbat Mevarchim
---
TODAY'S ZMANIM
Netz (Sunrise)
7:31am
Plag HaMincha
3:50pm
Shkiah (Sunset)
4:48pm
Tzeit Hakochavim
5:35pm
More >>
---
Mon, November 28 2022 4 Kislev 5783