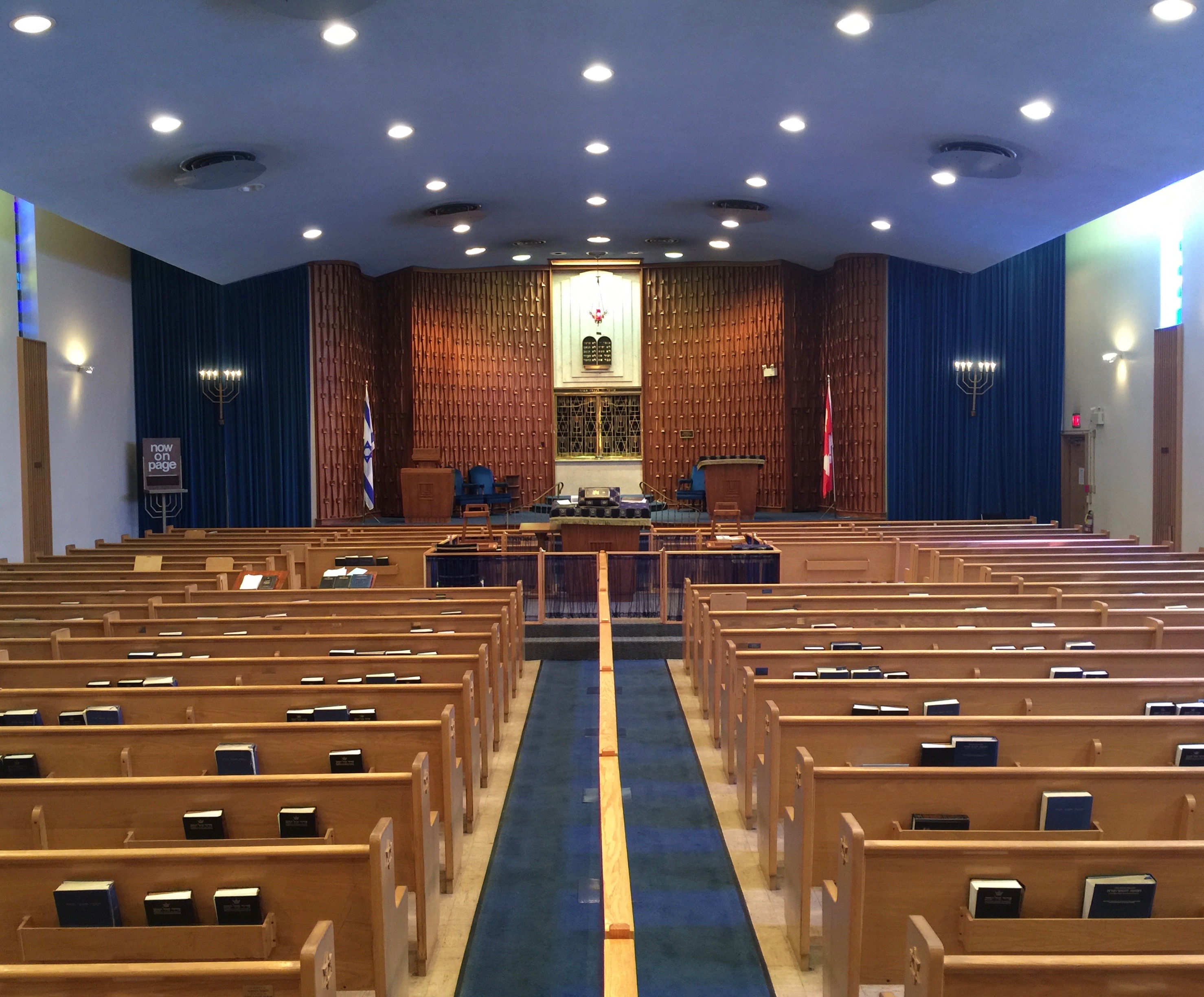 Beth Jacob Congregation of Kitchener-Waterloo
Beth Jacob Congregation has been serving the Jewish community of Kitchener-Waterloo and Cambridge for more than a century. Founded in 1908, Beth Jacob is a modern Orthodox synagogue with congregants from different observances.
Regular minyan times (other minyanim may vary):
Thursday mornings at 7:15 AM
♦ 7:00 AM on Rosh Chodesh or Chol HaMoed
Shabbat & Yom Tov mornings at 9:30 AM
♦ Children's service at 10:45 AM
♦ Kiddush lunch every week at 12:30 PM
The office is normally open:
Mondays to Thursdays, 9:00am to 12:00pm
---
---
---
Raising the sukkah at beth jacob
We are raising the Sukkah on Sunday Oct 13th morning!
Please come and help, many hands will make light work.
sukkot - lulav & etrog
There will be a Lulav & Etrog here at Beth Jacob next week for our members to shake - hope to see you here next week!
2019 Sukkot at beth jacob

Erev Sukkot (Sunday, October 13, 2019)
Candle Lighting – 6:25P
Mincha/Ma'ariv – 6:25P
Sukkot Day One (Monday, October 14, 2019)
Shacharit – 9:30A
Mincha/Ma'ariv – 6:25P
(Candle Lighting and preparation for 2nd day not before 7:23P)
Sukkot Day Two (Tuesday, October 15, 2019)
Shacharit – 9:30A
Havdallah – 7:22P
Sukkot Day Four (Thursday, October 17, 2019)
Shacharit – 7:00A
Shabbat Chol Hamoed (Friday, October 18, 2019)
Candle Lighting – 6:16P
Mincha/ Kabbalat Shabbat/ Ma'ariv – 6:15P
Shabbat Morning Chol HaMoed (Saturday, October 19, 2019)
Shacharit – 9:30A Kohelet to be read
Havdallah – 7:16P
Hoshana Rabba/Shmini Atzeret (Sunday, October 20, 2019)
Shacharit – 9:00A
Candle Lighting – 6:13P
Mincha/Ma'ariv – 6:15P
Shmini Atzeret/Simchat Torah (Monday, October 21, 2019)
Shacharit – 9:30A
Yizkor (approx.) 10:30A
Candle Lighting and Preparations for 2nd Day not before 7:13P
Mincha – Not to be done
(Simchat Torah)
Ma'ariv & Hakofot - approx. 7:00P
Simchat Torah (Tuesday, October 22, 2019)
Shacharit – 9:30A
Havdallah – 7:11P
Movie night at beth jacob - October 23rd at 7:00pm
WEEKLY PARSHA CLASSES AT BETH JACOB
PLEASE NOTE NEW START DATE!
Weekly Parsha classes at Beth Jacob begin again!
First class will be on Tuesday October 29th at 2:00pm.
Leader - Eliora Wolfe.
For those of you doing the Hebrew reading, we will discuss this at the first class. Looking forward to seeing everyone in class!
If you know anyone else who would like to join please pass this along to them
Haftorah and DVAR TORAH SIGN UP Sheet
Tue, October 15 2019
16 Tishrei 5780
There are no upcoming events at this time.
---
Today's Calendar
---
Candle Lighting
Havdalah
Sukkot
---
TODAY'S ZMANIM
Netz (Sunrise)
7:36a
Plag HaMincha
5:30p
Shkiah (Sunset)
6:39p
Tzeit Hakochavim
7:22p
More >>
---
Tue, October 15 2019 16 Tishrei 5780