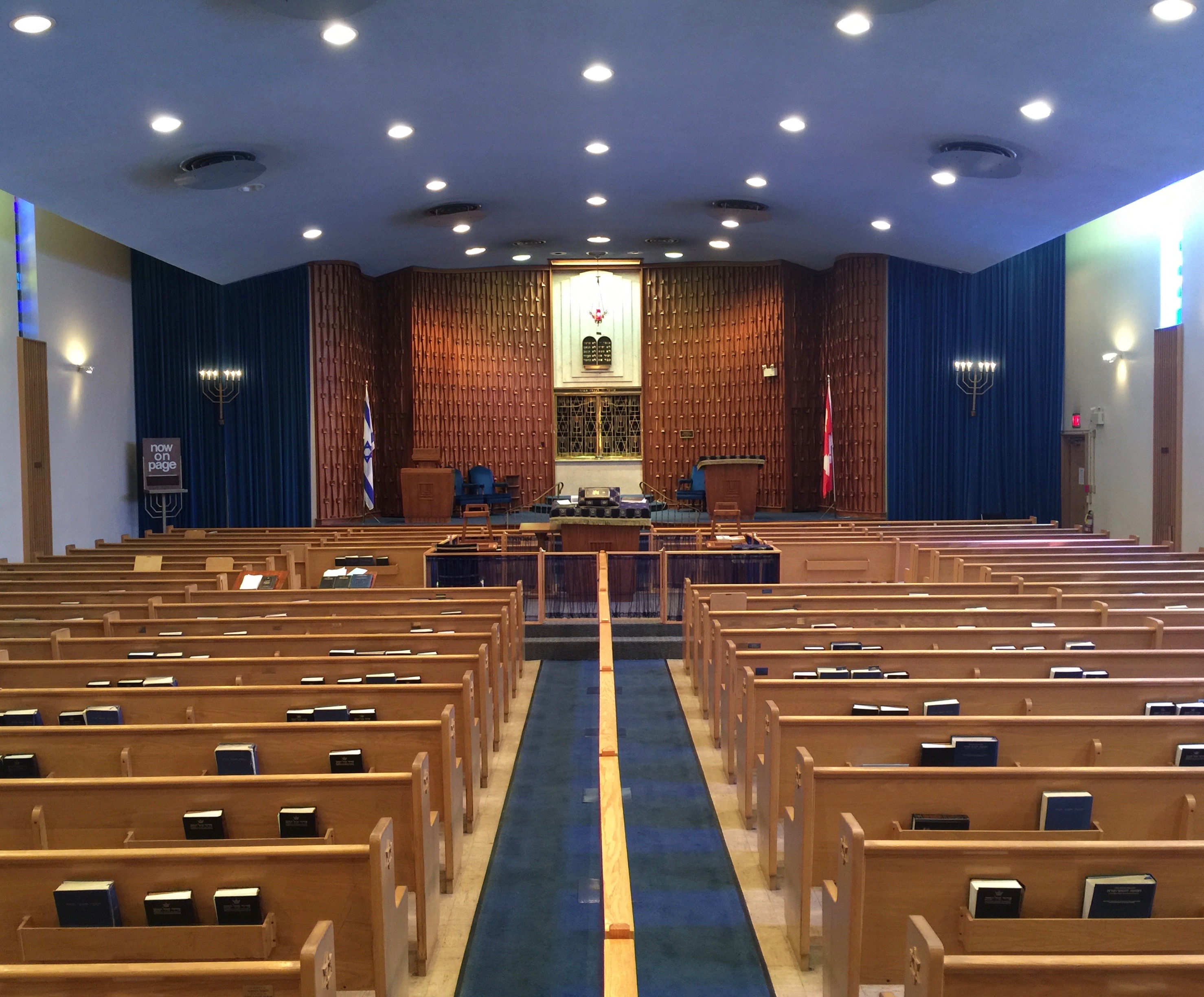 Beth Jacob Congregation

of




Kitchener-Waterloo
Beth Jacob Congregation has been serving the Jewish community of Kitchener-Waterloo and Cambridge for more than a century. Founded in 1908, Beth Jacob is a modern Orthodox synagogue with congregants from different observances.
weekly services at beth jacob

Regular minyan times (other minyamin may vary)
FRIDAY EVENINGS
♦ winter - approx 4:30pm to 6:00pm (varies)
♦ summer - 7:00pm to 8:00pm
SHABBAT MORNINGS
♦ 9:30am to 11:00am
♦ No regular Kiddush lunches at this time
No pre-registration required, all are welcome
---
---
sukkah build at beth jacob!
2022-2023 ANNUAL MEMBERSHIP DUES
The 2022-2023 Annual Membership Dues letters have been mailed and should be arriving soon. Your support is truly appreciated and is critical to the functioning of the synagogue.
To pay online via PayPal, please click here.
holocaust education at beth jacob

Beth Jacob has acquired a series of posters about the Holocaust from Yad Vashem in Israel, thanks to the generosity of some donors. These are, for the time being, on display in the Rosen Auditorium here at Beth Jacob -- perfect for viewing before or after services on Friday evenings and Saturday mornings. Viewing of the posters can also take place during the week when the building is open for office hours when our building manager is present.
Recently, representatives of the Public and Separate high schools viewed the posters and the hope is to have them displayed for one week in each of four high schools, two schools from each system, this fall. Next year, we hope to add more schools to the programme.
cemetery hours during high holidays

The Beth Jacob Cemetery will be open:
Sunday, October 2, 2022 from 9:00A to 1:00P
with a Holocaust remembrance service set for 11:00A (Oct 2)
5783 HIGH HOLIDAYS AT BETH JACOB

We are very pleased to announce that extended family (adults and children) of Beth Jacob members, and all other guests may attend High Holiday services for no additional cost.
All guests and extended family members must register in advance with Margo at the synagogue office, by Monday, October 3rd for Kol Nidre/Yom Kippur. Please call 519-743-8422 or email: bethjacob.email@gmail.com.
Pre-registration for non-members and extended family members is mandatory and will be shared with our on-site security team.
ADULT EDUCATION AT BETH JACOB

ADMISSION IS FREE AND ALL ARE WELCOME!
REGULAR IN-PERSON services at beth jacob

In-person services continue at Beth Jacob! We welcome everyone to attend, no pre-registration is required and guests are welcome!
Hand sanitizer is provided throughout the building

Siddur and Chumash will be available for your use should you require them

Kippah are now available on site, and you are welcome to store your tallit at Beth Jacob

In order to help protect and safeguard the health of our members and guests, the wearing of face masks covering the nose and mouth will remain mandatory indoors at the shul for all persons over the age of 2


Adult sized masks are available but we regret we do not have any child-sized masks

We do ask everyone who attends: i

f you have any fever or signs of illness, please stay home until you feel better

Children of all ages are welcome, but we ask that parents continue to supervise their children under the age of 12
Beth Jacob remains committed to following the guidelines and protocols as issued from our federal, provincial, regional and municipal authorities and public health experts. Thank you for your continued understanding and support.
WEEKLY SERVICES SCHEDULE AT BETH JACOB
Haftorah and DVAR TORAH SIGN UP Sheet
office hours

The office is normally open:
Mondays to Thursdays, 9:00am to 12:00pm
The office is not open on Sabbath and Major Religious Holidays and phones and emails are not answered on those days. We apologize for any inconvenience this may cause.

Should you require urgent burial assistance for a loved one,
please contact us through Dignity Memorial's 24 hour
answering service at 519-743-8900.
---
---
---
Fri, September 30 2022
5 Tishrei 5783
There are no upcoming events at this time.
---
Today's Calendar
---
This week's Torah portion is

Parshat Vayeilech
Candle Lighting
Havdalah
Motzei Shabbat, Oct 1, 7:53pm
Shabbat Shuva
---
TODAY'S ZMANIM
Netz (Sunrise)
7:18am
Plag HaMincha
5:52pm
Shkiah (Sunset)
7:05pm
Tzeit Hakochavim
7:47pm
More >>
---
Fri, September 30 2022 5 Tishrei 5783