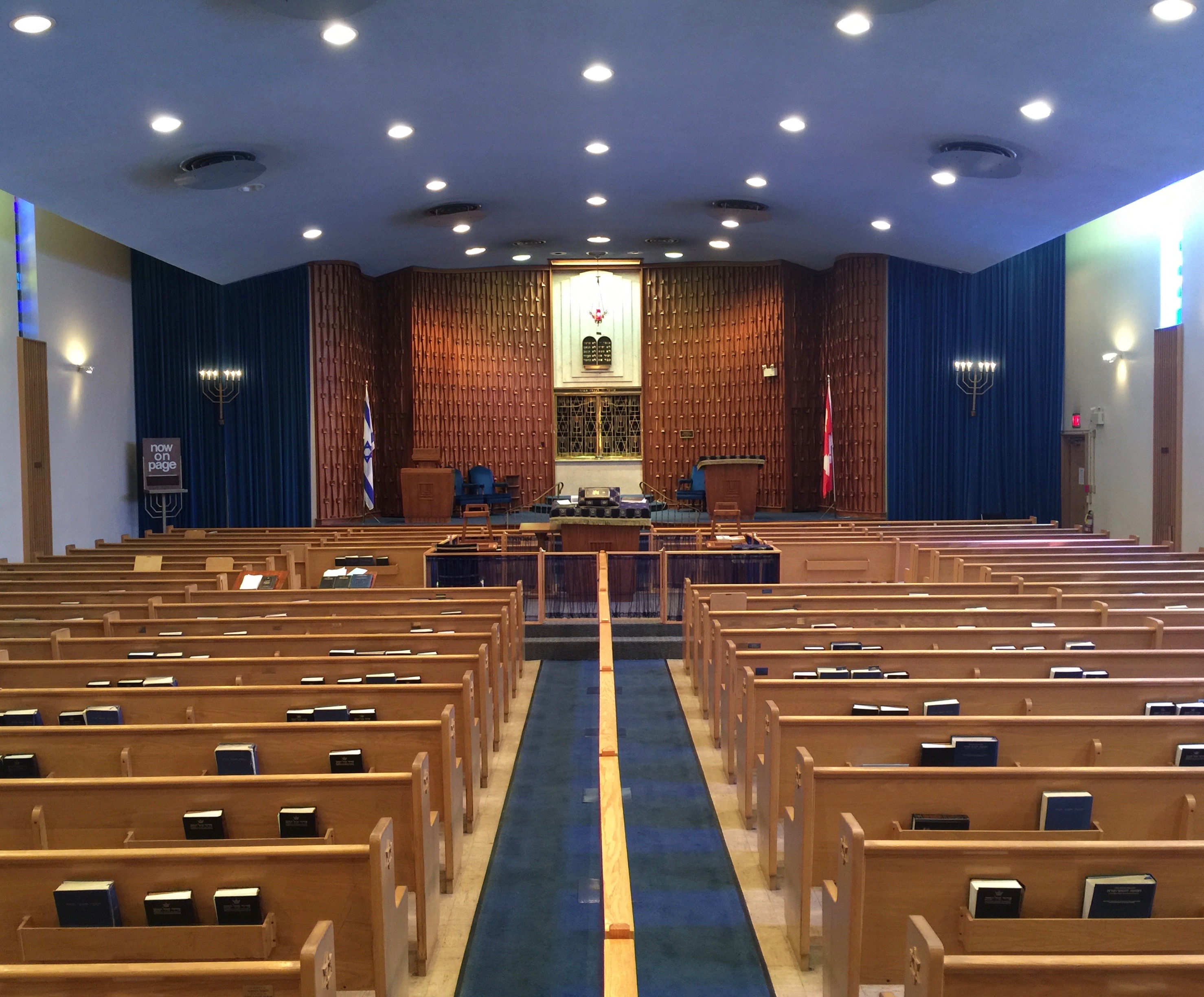 Beth Jacob Congregation of Kitchener-Waterloo
Beth Jacob Congregation has been serving the Jewish community of Kitchener-Waterloo and Cambridge for more than a century. Founded in 1908, Beth Jacob is a modern Orthodox synagogue with congregants from different observances.
weekly services at beth jacob

Regular minyan times (other minyamin may vary)
FRIDAY EVENINGS
♦ winter - approx 4:30pm to 6:00pm (varies)
♦ summer - 7:00pm to 8:00pm
SHABBAT MORNINGS
♦ 9:30am to 11:00am
♦ No Kiddush lunches at this time.
ADVANCED REGISTRATION IS REQUIRED.
REGISTRATION IS LIMITED TO CURRENT MEMBERS AT THIS TIME
PLEASE CHECK YOUR WEEKLY EMAIL FOR LINK AND INSTRUCTIONS.
---
---
IN-PERSON services at beth jacob

In-person services continue at Beth Jacob. We thank you for your patience and co-operation as we work to keep everyone as safe as possible.
Regular pre-registration is required by FRIDAY MORNING 10:00AM prior to that week's services and is limited to current congregation members only during this phase. Please check your email for links and instructions every week.
Space will be limited to 10 attendees (including any children).

*** Please note this number may be subject to change with very short notice, according to the latest provincial / regional / public health restrictions.

If you have any fever or signs of illness, please stay home

Attendees are asked to bring their own Siddur and Chumash

Attendees are asked to bring their own kippah and tallit - none will be available on site

Children are welcome but must remain with their parents/guardians at all times

All attendees over the age of 2 will be required to wear a mask that covers mouth and nose before entry of the building and during the entire duration of services. Masks will not be provided. (This requirement does not apply to those who are unable to wear a face covering due to medical condition or disability)

All entrants to the building are asked to use hand sanitizer (provided throughout the building) immediately upon entry

All are asked to leave the building immediately after the conclusion of the service

No food or drinks may be brought or eaten on premises at this time. Kiddush remains suspended.
Congregants aged 65 and above, those who are immunocompromised or diagnosed with chronic illnesses are identified as at higher risk of Covid-19. We ask all to consider the risks and benefits prior to attending; if necessary, please consult your physician for advice.
And we ask..... please be patient as we are working hard to continue to offer in-person services. Beth Jacob remains committed to following the guidelines and protocols as issued from our federal, provincial, regional and municipal authorities and public health experts. We will all need to work together to re-open safely.
SHABBAT SERVICES SCHEDULE
Haftorah and DVAR TORAH SIGN UP Sheet
office hours

The office is normally open:
Mondays and Thursdays, 9:00am to 12:00pm
emails and voice mail continue to be monitored on Tuesdays and Wednesdays, we apologize for any inconvenience or delay.

Should you require urgent burial assistance for a loved one,
please contact us through Dignity Memorial's 24 hour
answering service at 519-743-8900.
---
---
---
Mon, April 19 2021
7 Iyyar 5781
There are no upcoming events at this time.
---
Tonight's Sefirah Count Is 23
היום שלשה ועשרים יום שהם שלשה שבועות ושני ימים לעמר
Today's Calendar
---
This week's Torah portion is

Parshat Achrei Mot-Kedoshim
Candle Lighting
Havdalah
Motzei Shabbat, Apr 24, 9:05p
Pesach Sheni
---
TODAY'S ZMANIM
Netz (Sunrise)
6:33a
Plag HaMincha
6:45p
Shkiah (Sunset)
8:10p
Tzeit Hakochavim
8:55p
More >>
---
Mon, April 19 2021 7 Iyyar 5781