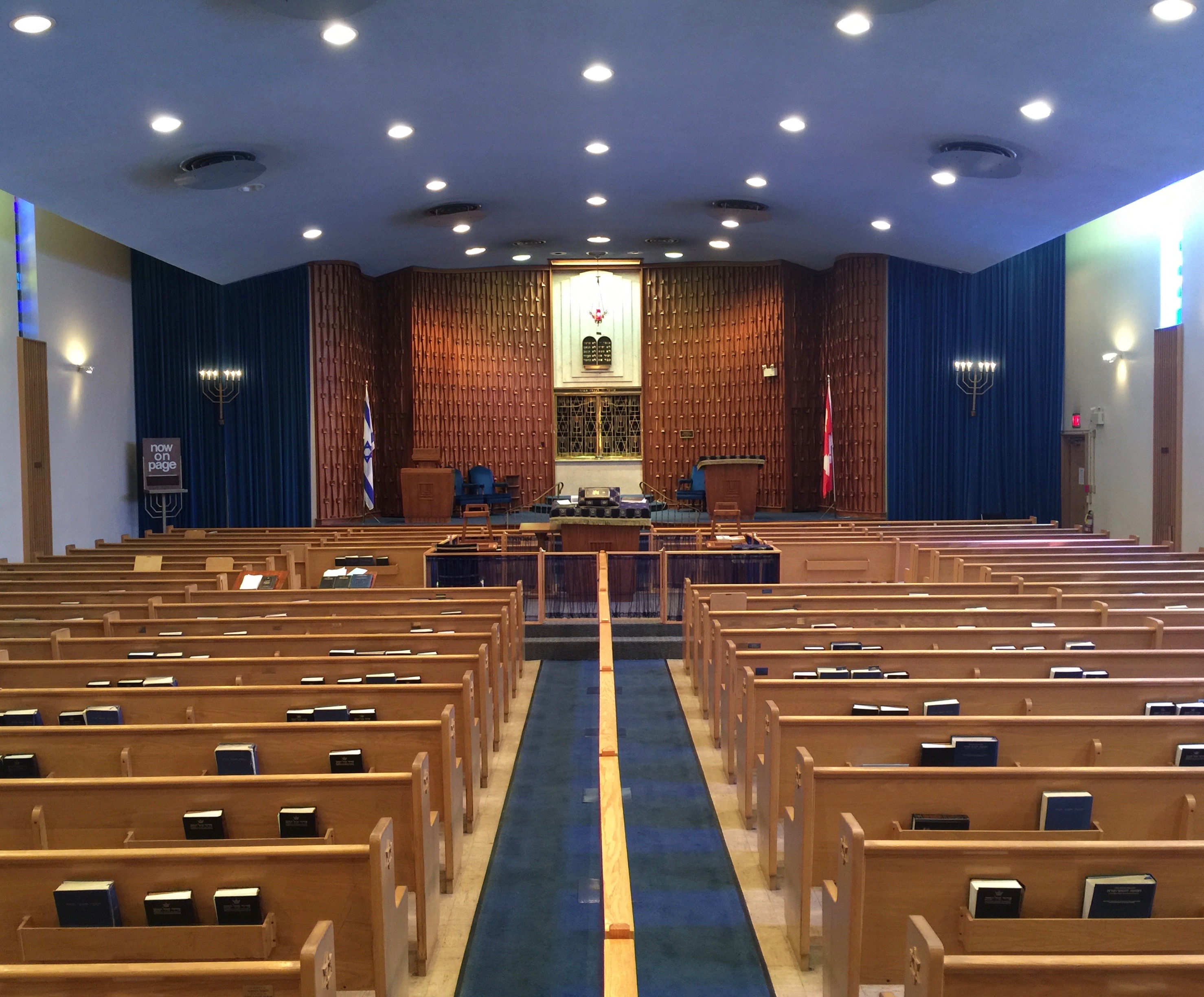 Beth Jacob Congregation of Kitchener-Waterloo
Beth Jacob Congregation has been serving the Jewish community of Kitchener-Waterloo and Cambridge for more than a century. Founded in 1908, Beth Jacob is a modern Orthodox synagogue with congregants from different observances.
Regular minyan times (other minyanim may vary):
Thursday mornings at 7:15 AM
♦ 7:00 AM on Rosh Chodesh or Chol HaMoed
Shabbat & Yom Tov mornings at 9:30 AM
♦ Children's service at 10:45 AM
♦ Kiddush lunch every week at 12:30 PM
The office is normally open:
Mondays to Thursdays, 9:00am to 12:00pm
---
---
---
yom kippur break fast meal at beth jacob

Please join us for a delicious catered Break Fast Meal here at Beth Jacob after Yom Kippur Services. All are welcome.
Please note that catering is being charged on a per-person basis so we are unable to offer Family pricing for this event; our apologies for the change.
For tickets, please click on the image below or call the shul office to arrange payment by credit card. Cheques are always welcome and can be dropped off anytime before September 25th. Thank you.
2019 hIGH hOLIDAYS sCHEDULE AT BETH JACOB

Sunday, September 29, 2019
6:50p 1st night of Rosh Hashanah evening Service
6:50p Candle lighting before this time
Monday, September 30, 2019
8:30A 1st Day Rosh Hashanah morning services
10:30A Shofar & Children's services begins (approximate)
6:30p Community Tashlich ritual (meet behind the shul)
7:00p 2nd night of Rosh Hashanah evening services
7:48p Candle lighting after this time
Tuesday, October 1, 2019
8:30A 2nd Day Rosh Hashanah morning services
10:30A Shofar & Children's services begins (approximate)
7:00p Mincha evening Services
7:46p Havdallah
Sunday, October 6, 2019
11:00A Community Holocaust Memorial service at the Cemetery
Tuesday, October 8, 2019
6:15p Erev Yom Kippur Mincha, Ma'ariv including Kol Nidre
6:33p Fast begins and candle lighting
Wednesday, October 9, 2019
9:00A Yom Kippur morning services
11:00A Children's Service begins
11:15A Community Yizkor service (Approximate)
5:15p Yom Kippur Mincha, reading of the book of Jonah
6:30p Ne'ila service, followed by Ma'ariv
7:32p Fast Ends and Havdallah​​​​​​​
Beth Jacob 2019 High Holidays Ticket Prices
For Non-Members:
$200 for a Single Person (over 18)
$350 for a Couple or a Family
For the Guests of Members:
$100 for a Single Person (over 18)
$250 for a Couple or a Family
Tickets may be purchased by contacting the office at 519-743-8422.
DOORS OPEN WATERLOO REGION - 2019
Beth Jacob is participating in Doors Open Waterloo Region!

Saturday September 21st beginning at 2:00pm & ending at approx. 4:30pm. Guided 30 minute tours at 2, 3, and 4pm.
For more information, please click the link below:
https://www.doorsopenontario.on.ca/en/waterloo-region/beth-jacob-synagogue
WEEKLY PARSHA CLASSES AT BETH JACOB
PLEASE NOTE NEW START DATE!
Weekly Parsha classes at Beth Jacob begin again!
First class will be on Tuesday October 29th at 2:00pm.
Leader - Eliora Wolfe.
For those of you doing the Hebrew reading, we will discuss this at the first class. Looking forward to seeing everyone in class!
If you know anyone else who would like to join please pass this along to them
MOVIE NIGHT AT BETH JACOB
Movie: The 1956 version of "The Ten Commandments"
The first half will be shown Tuesday Sept. 24, at 7:00 PM
The second half will be shown Wednesday, Oct 3, 7:00 PM (Note change of date, because of Simcha Torah the day before): Part II of "The Ten Commandments"
My thinking is that this classic movie is about much of our history, will be covered in the Torah readings for the coming year, and may also be good for the kids to see.
The movie has a great cast, and won many, many awards.
Some of the historical names may not be familiar, so I suggest you follow the link below, scroll down to "Cast", and check out any unfamiliar historical characters, and match them with the actor who plays the part:
https://en.wikipedia.org/wiki/The_Ten_Commandments_(1956_film)
Light refreshments will be served.
See you at the movies!
-Jack
Haftorah and DVAR TORAH SIGN UP Sheet
Tue, September 17 2019
17 Elul 5779
There are no upcoming events at this time.
---
This week's Torah portion is

Parshat Ki Tavo
Candle Lighting
Havdalah
Motzei Shabbat, Sep 21, 8:12p
Erev Rosh Hashana
---
TODAY'S ZMANIM
Netz (Sunrise)
7:03a
Plag HaMincha
6:11p
Shkiah (Sunset)
7:29p
Tzeit Hakochavim
8:11p
More >>
---
Tue, September 17 2019 17 Elul 5779