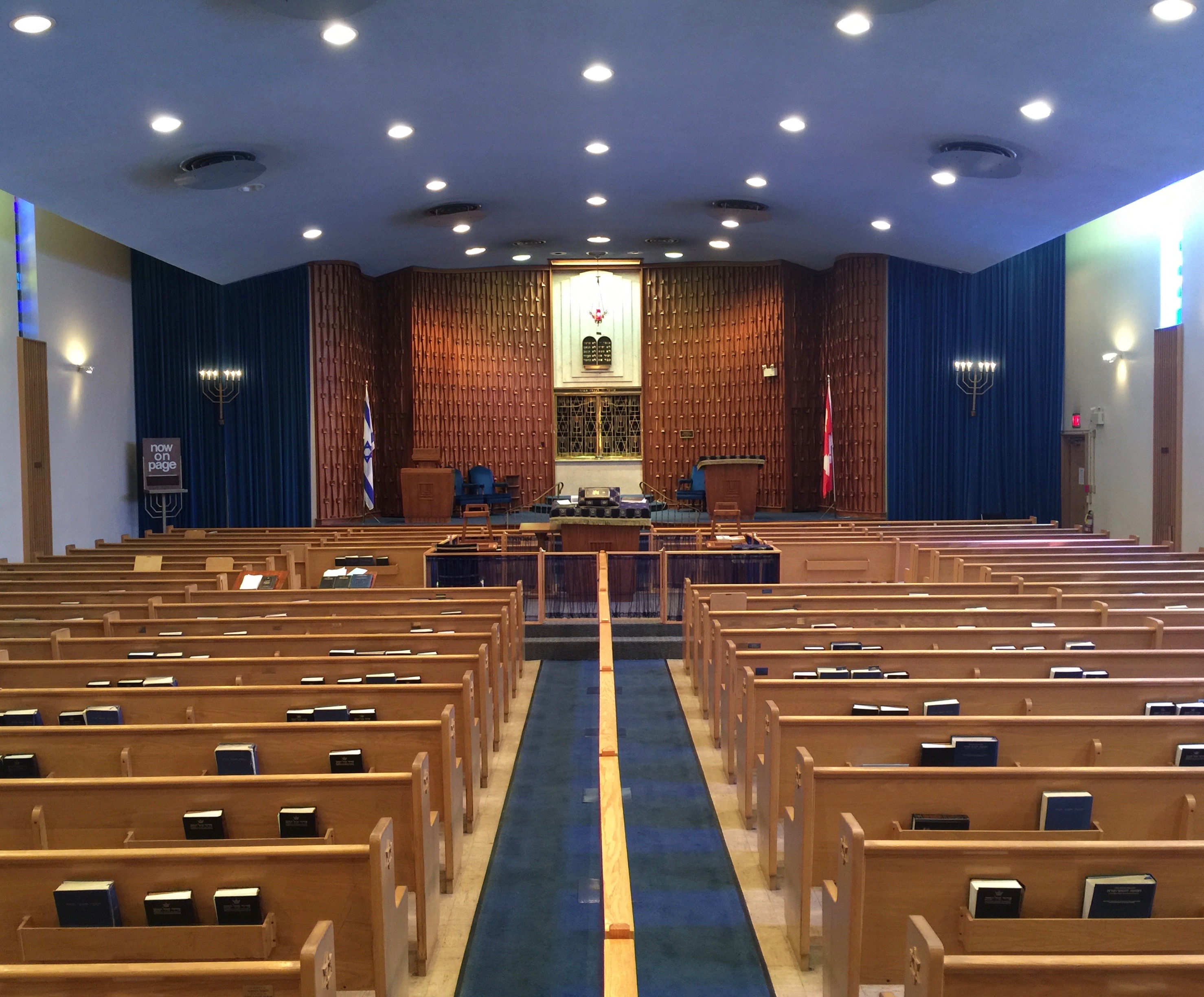 Beth Jacob Congregation of Kitchener-Waterloo
Beth Jacob Congregation has been serving the Jewish community of Kitchener-Waterloo and Cambridge for more than a century. Founded in 1908, Beth Jacob is a modern Orthodox synagogue with congregants from different observances.
Regular minyan times (other minyanim may vary):
Thursday mornings at 7:15 AM
♦ 7:00 AM on Rosh Chodesh or Chol HaMoed
Shabbat & Yom Tov mornings at 9:30 AM
♦ Children's service at 10:45 AM
♦ Kiddush lunch every week at 12:30 PM
The office is normally open:
Mondays to Thursdays, 9:00am to 12:00pm​​​​​​​
---
---
---
YOM KIPPUR BREAK THE FAST MEAL
On Sept. 19th there will be a meal to Break the Fast. It will be sliced chicken breast, salads, fruit, homebaking, and drinks.
Thank you for all who have RSVP'd and contributed.
---
BETH JACOB CEMETERY HOURS DURING HIGH HOLIDAYS
The cemetery will be open on
Sunday September 16th - 9:00am to 1:00pm,
with a Holocaust Memorial Service at 11:00am
---
2018 high holiday schedule at beth jacob
Beth Jacob Congregation
2018 High Holiday Timetable Schedule
Sunday September 16, 2018
11:00A Community Holocaust Memorial Service at the Cemetary
Tuesday, September 18, 2018 – Erev Yom Kippur
06:50P Erev Yom Kippur Mincha, Ma'ariv including Kol Nidre
07:09P Fast begins and candle lighting
Wednesday, September 19, 2018 – Yom Kippur
09:00A Yom Kippur morning services
11:00A Childrens' service begins
11:15A Community Yizkor Service (approximate)
05:30P Yom Kippur Mincha, reading of the book of Jonah
07:00P Ne'ila service, followed by Ma'ariv
08:07P Fast Ends and Havdallah
Haftorah Reading Volunteers Sought
Seeking Haftorah volunteers - click here to sign up using Google Docs!
Thu, September 20 2018
11 Tishrei 5779
There are no upcoming events at this time.
---
Today's Calendar
---
Parshat Ha'Azinu
Candle Lighting
Havdalah
Motzei Shabbat, Sep 22, 8:10p
Erev Sukkot
---
TODAY'S ZMANIM
Netz (Sunrise)
7:07a
Plag HaMincha
6:07p
Shkiah (Sunset)
7:23p
Tzeit Hakochavim
8:06p
More >>
---
Thu, September 20 2018 11 Tishrei 5779