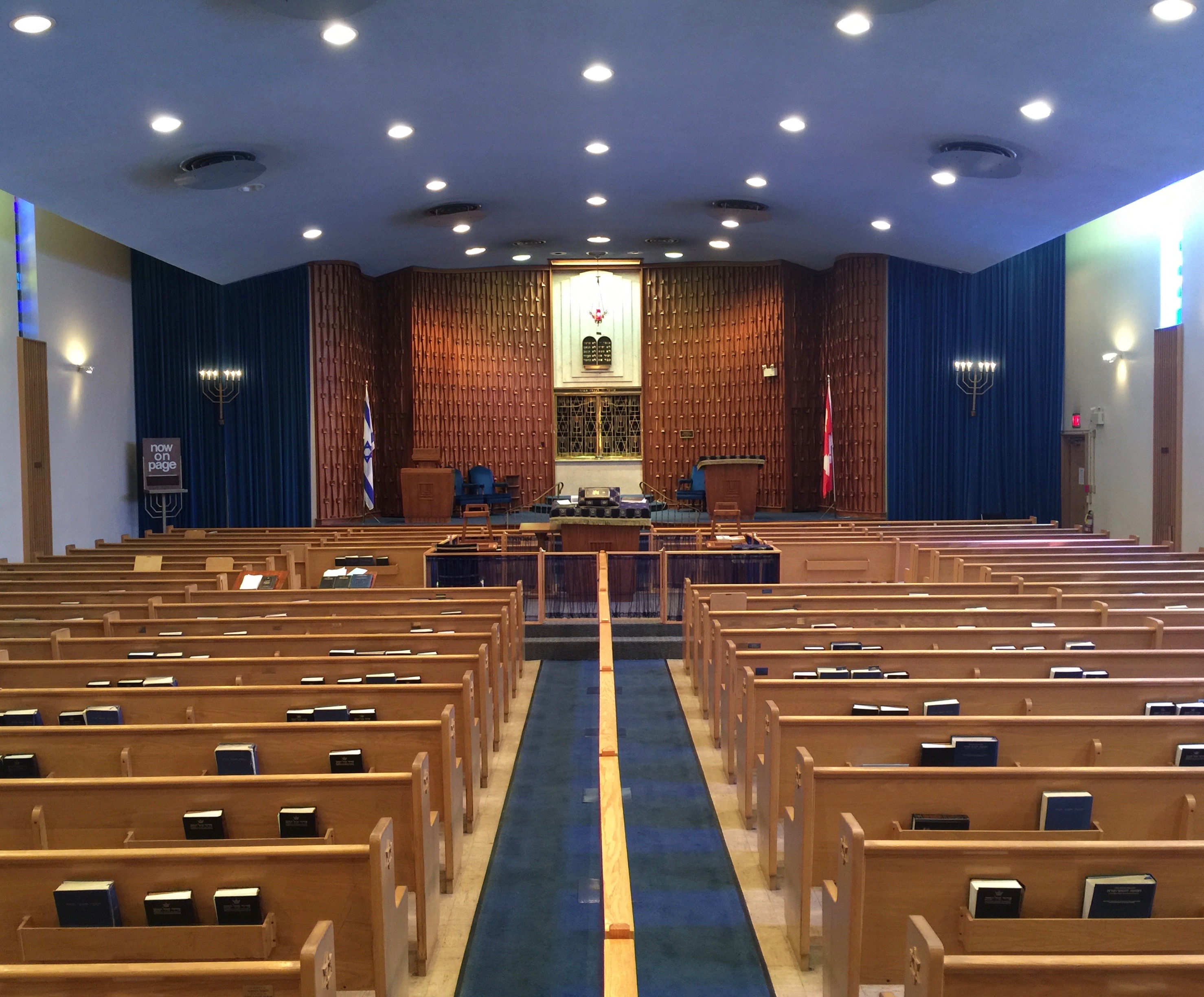 Beth Jacob Congregation of Kitchener-Waterloo
Beth Jacob Congregation has been serving the Jewish community of Kitchener-Waterloo and Cambridge for more than a century. Founded in 1908, Beth Jacob is a modern Orthodox synagogue with congregants from different observances.
weekly services at beth jacob

Regular minyan times (other minyamin may vary)
FRIDAY EVENINGS
♦ winter - approx 4:30pm to 6:00pm (varies)
♦ summer - 7:00pm to 8:00pm
SHABBAT MORNINGS
♦ 9:30am to 11:00am
♦ No Kiddush lunches at this time.
ADVANCED REGISTRATION IS REQUIRED.
REGISTRATION IS LIMITED TO CURRENT MEMBERS AT THIS TIME
PLEASE CHECK YOUR WEEKLY EMAIL FOR LINK AND INSTRUCTIONS.
---
---
high holidays at beth jacob ***updated VACCINATION POLICY IN EFFECT****
A CALL TO ACTION
The Executive Committee of Beth Jacob wishes to ensure the safety of all who enter our synagogue. We continue to monitor the ongoing situation in the region and provincially, to follow the appropriate protocols which minimize the risk to our members and staff, especially during the High Holidays. The Executive has approved the implementation of the following vaccination policy for all those taking part in in-person services.
Only Members will be able to attend High Holiday Services

We will be requiring that all persons who are eligible for vaccination provide proof of full vaccination that has been administered at least 14 days prior to attendance at a Service in order to register for attendance at High Holiday services

Children under the age of 12 will be required to remain with an adult family member at all times while in the building in order to assure appropriate physical distancing as well as mask wearing
In order to be authorized for admission to a High Holiday service each participant will need to pre-register, and, in addition, send a copy of the Proof of Vaccination to the Beth Jacob office on or before noon on Monday September 13th (for Kol Nidre / Yom Kippur).
Scanned copies (in PDF or JPG format) can be emailed to the office at bethjacob@on.aibn.com
Print copies can be dropped off at the office or put through our secure mail slot (outside the office doors).
We appreciate your understanding and wish everyone a happy, healthy, New Year and G'mar Chatima Tova.
---
sukkot 2021 / 5782

Pre-registration is required by
MONDAY SEPTEMBER 27th, 12:00noon for SHIMINI ATZERET & SIMCHAT TORAH SERVICES (on September 27th - 29th)
Please check your email for links and instructions on how to register, or call the office if you would like assistance.
For a link to the PDF file, please click here.
2021 - 2022 Annual membership Dues
The 2021-2022 Membership Dues statements have been sent out - please check your regular mail for your letter. Your support is greatly appreciated, especially during these challenging times.
Payments gladly received by cash, cheque, money order, Mastercard or Visa, or with PayPal from this website (see link below). As usual, your payment will receive a Charitable Donation Tax receipt for the year in which it was received.
Payment of dues in full by October 31, 2021 will receive a 5% discount! Please contact the office if you have not received your letter by August 31, 2021. Thank you.
To pay online using PayPal, please click here.
REGULAR IN-PERSON services at beth jacob

In-person services continue at Beth Jacob. We thank you for your patience and co-operation as we work to keep everyone as safe as possible.
Regular pre-registration is required by Friday morning 10:00AM prior to that week's services and is limited to current congregation members only during this phase. Please check your email for links and instructions every week.
Space will be limited to 25 attendees (including any children) beginning on June 18, 2021

If you have any fever or signs of illness, please stay home

Although attendees are asked to bring their own Siddur and Chumash, the shul will have these available for your use should you require them. The shul will store away any used books for at least 3 days afterwards.

Attendees are asked to bring their own kippah and tallit - none will be available on site

Children are welcome but must remain with their parents/guardians at all times

All attendees over the age of 2 will be required to wear a mask that covers mouth and nose before entry of the building and during the entire duration of services. (This requirement does not apply to those who are unable to wear a face covering due to medical condition or disability)


Some adult sized masks may be available at the shul but we regret we do not have any child-sized masks.

All entrants to the building are asked to use hand sanitizer (provided throughout the building) immediately upon entry

All are asked to leave the building immediately after the conclusion of the service

No food or drinks may be brought or eaten on premises at this time. Kiddush remains suspended.
Please be patient as we are working hard to continue to offer in-person services. Beth Jacob remains committed to following the guidelines and protocols as issued from our federal, provincial, regional and municipal authorities and public health experts. We will all need to work together to re-open safely.
SHABBAT SERVICES SCHEDULE
Haftorah and DVAR TORAH SIGN UP Sheet
office hours

The office is normally open:
Mondays to Thursdays, 9:00am to 12:00pm
The office is not open on Sabbath and Major Religious Holidays and phones and emails are not answered on those days. We apologize for any inconvenience this may cause.

Should you require urgent burial assistance for a loved one,
please contact us through Dignity Memorial's 24 hour
answering service at 519-743-8900.
---
---
---
Tue, September 28 2021
22 Tishrei 5782
There are no upcoming events at this time.
---
Today's Calendar
---
This week's Torah portion is

Parshat Bereshit
Candle Lighting
Havdalah
Wednesday, Sep 29, 7:57pm
Shmini Atzeret & Yizkor
---
TODAY'S ZMANIM
Netz (Sunrise)
7:16am
Plag HaMincha
5:55pm
Shkiah (Sunset)
7:09pm
Tzeit Hakochavim
7:51pm
More >>
---
Tue, September 28 2021 22 Tishrei 5782