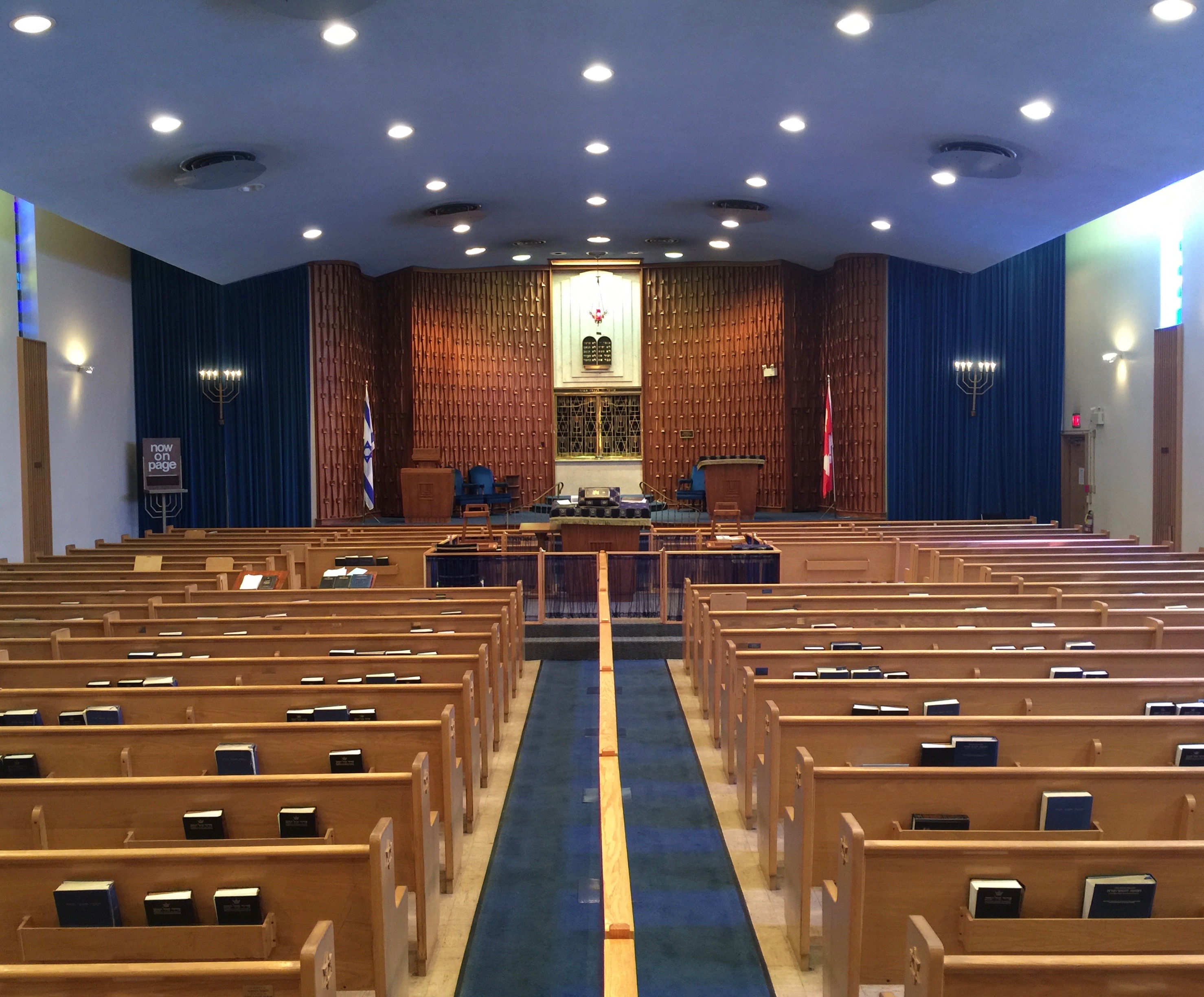 Beth Jacob Congregation of Kitchener-Waterloo
Beth Jacob Congregation has been serving the Jewish community of Kitchener-Waterloo and Cambridge for more than a century. Founded in 1908, Beth Jacob is a modern Orthodox synagogue with congregants from different observances.
currently suspended - all gatherings and services
Regular minyan times (other minyanim may vary):
Thursday mornings at 7:15 AM
♦ 7:00 AM on Rosh Chodesh or Chol HaMoed
Shabbat & Yom Tov mornings at 9:30 AM
♦ Children's service at 10:45 AM
♦ Kiddush lunch every week at 12:30 PM
The office is normally open:
Mondays to Thursdays, 9:00am to 12:00pm
---
---
---
COVID19 - BUILDING CLOSURE & PROGRAM SUSPENSION
Dear members, friends and our community family of Beth Jacob,

Over the past week, your executive has been in discussions over how to respond and provide religious and community programming in the face of the Covid-19 Corona Virus.
During this period, we have been taking cues from our Regional, Provincial and Federal public health officials, as well as the WHO and keeping an ear as to what our other community Synagogues, Churches and community centres are doing to keep their members safe. As we are all well aware, the situation seems to be changing by the hour.

After a special meeting, your executive has decided that it is in the best interest of our members to temporarily suspend all religious and community programming at Beth Jacob for the foreseeable future. This includes, but is not limited, to all religious services, such as Thursday morning minyanim, Friday Evening prayer and Saturday Shabbat services.

This decision has been made in the interest of reducing community spread of the Covid-19 Corona Virus and supporting the government call for social distancing.

We do not know how long this pause will be.

Your executive does, however, commit to continuous monitoring and communication with our membership through e-mail. We will be meeting as an executive again in two weeks time to assess the situation and appraise our congregation.

During this time, we will be making appropriate arrangements to ensure that our Shul building will be maintained. Margo will be keeping reduced office hours, working Mondays to Thursdays in isolation, to ensure that member and community administration can continue to be available.

Although we are without a Rabbi at the moment, our board and many members of our community want to ensure that we maintain our sense of community. During these unprecedented times, if there are members who need support with daily challenges, such as arranging grocery shopping, due to self quarantine or shut in, please contact our office and we will ensure that we can ask for a volunteer to assist.

Sincerely,
Amichai Tsarfati
MESSAGE FROM OUR PRESIDENT

Dear Beth Jacob family, friends and community,

I wanted to thank you for the opportunity to lead this community as your President over the past year. I have enjoyed working with a passionate board and admire our many community volunteers that give their time and resources to make this community work.
We held our first virtual AGM last Thursday and proud to say that we not only had quorum – I think that we enjoyed one of our livelier AGM's in our recent history. It is my understanding that the meeting was videoed, so if there are members who were unable to attend and want to review the discussions, we can likely make them available at some point.
We also are working on finding an appropriate way to disclose our financial statements to the community. Due to the virtual format, we did not feel comfortable distributing this confidential information on screen. If there are members who would like to review the statements, please contact Margo in the office and we will find a way to make safe access to view the statements.
During the AGM, the outgoing board was able to present our community the proposed constitution to vote on which was requested at our prior year's AGM. The vote at the AGM would not have changed the constitution, but a simple majority would have allowed the board to then move to a mail in vote, as prescribed in the current constitution to obtain an 80% majority to enact any changes.
I'm proud of our outgoing board in bringing our community the opportunity to speak/vote their views on the governance and religious practice of our congregation. This is something that has been absent the discourse since the mid 90's.
The results point to a divided community. It is clear that less than ½ of those family unit's that voted desire no change. It is clear that a little over a 1/3 of the family units that voted desire change and 1/6 abstained. See graph below.



I would conclude that the community does not want to proceed with the proposed constitution – though I would caution that this is an endorsement that the status quo is what the community desires.
As outgoing president of a board where we were committed to providing religious and governance change that the community requested, I would advise the incoming board to find a suitable president that endorses the status quo.
At the special meeting 2+ years ago that Simon held, I committed to support the board in any way providing we were moving to BJ 2.0. But as I indicated then and I reiterate now, the status quo does not represent my values nor my religious views.
I am stepping down due to growing family and business responsibilities. Please understand that this decision was made well in advance of this vote. However, the community is my family and where I can, I look forward to supporting our community where I can, and my time allows me.
Lastly, regardless of where my personal views lie on future sustainability and success of our community, the incoming board will need to look at our balance sheet and find ways to unlock the value we have to provide our members with the services they are looking for out of membership at Beth Jacob.
As I have said many times, we all join a Shul for our own reasons. We have so much to offer, but it will require business to be different than it was in the past. We have the resources and need to be prudent with them. However, to not evaluate our options would not be fair to our membership, unless this is what they are asking the board to do.
It has been an honour to serve our community.
Sincerely,
Amichai Tsarfati
Past President


Haftorah and DVAR TORAH SIGN UP Sheet
Mon, August 3 2020
13 Av 5780
There are no upcoming events at this time.
---
This week's Torah portion is

Parshat Eikev
Candle Lighting
Havdalah
Motzei Shabbat, Aug 8, 9:24p
Tu B'Av
---
TODAY'S ZMANIM
Netz (Sunrise)
6:14a
Plag HaMincha
7:11p
Shkiah (Sunset)
8:41p
Tzeit Hakochavim
9:29p
More >>
---
Mon, August 3 2020 13 Av 5780