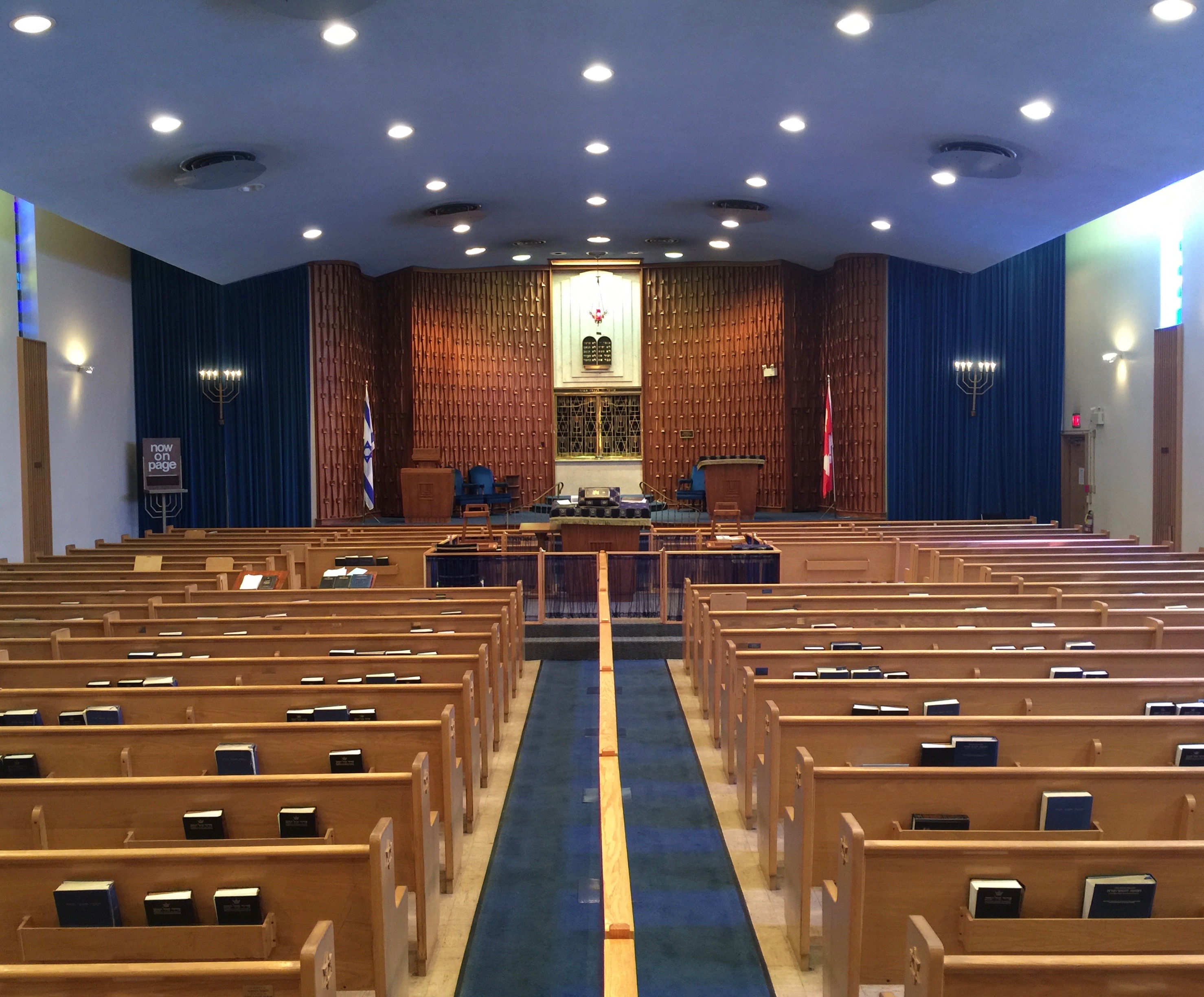 Beth Jacob Congregation of Kitchener-Waterloo
Beth Jacob Congregation has been serving the Jewish community of Kitchener-Waterloo and Cambridge for more than a century. Founded in 1908, Beth Jacob is a modern Orthodox synagogue with congregants from different observances.
currently suspended - all gatherings and services
Regular minyan times (other minyanim may vary):
Thursday mornings at 7:15 AM
♦ 7:00 AM on Rosh Chodesh or Chol HaMoed
Shabbat & Yom Tov mornings at 9:30 AM
♦ Children's service at 10:45 AM
♦ Kiddush lunch every week at 12:30 PM
The office is normally open:
Mondays to Thursdays, 9:00am to 12:00pm
---
---
---
COVID19 - BUILDING CLOSURE & PROGRAM SUSPENSION
Dear members, friends and our community family of Beth Jacob,

Over the past week, your executive has been in discussions over how to respond and provide religious and community programming in the face of the Covid-19 Corona Virus.
During this period, we have been taking cues from our Regional, Provincial and Federal public health officials, as well as the WHO and keeping an ear as to what our other community Synagogues, Churches and community centres are doing to keep their members safe. As we are all well aware, the situation seems to be changing by the hour.

After a special meeting, your executive has decided that it is in the best interest of our members to temporarily suspend all religious and community programming at Beth Jacob for the foreseeable future. This includes, but is not limited, to all religious services, such as Thursday morning minyanim, Friday Evening prayer and Saturday Shabbat services.

This decision has been made in the interest of reducing community spread of the Covid-19 Corona Virus and supporting the government call for social distancing.

We do not know how long this pause will be.

Your executive does, however, commit to continuous monitoring and communication with our membership through e-mail. We will be meeting as an executive again in two weeks time to assess the situation and appraise our congregation.

During this time, we will be making appropriate arrangements to ensure that our Shul building will be maintained. Margo will be keeping reduced office hours, working Mondays to Thursdays in isolation, to ensure that member and community administration can continue to be available.

Although we are without a Rabbi at the moment, our board and many members of our community want to ensure that we maintain our sense of community. During these unprecedented times, if there are members who need support with daily challenges, such as arranging grocery shopping, due to self quarantine or shut in, please contact our office and we will ensure that we can ask for a volunteer to assist.

Sincerely,
Amichai Tsarfati
Proposed Constitution Update

Excerpt from the message from our President, Amichai Tsarfati;
"Your executive had drafted and accepted a proposed constitution for the membership to review. I encourage all our members to take some time to read what your board is proposing and compare this to our existing constitution. The executive will be setting up a committee to call all our members to discuss the proposed constitution and what changes this will have on our community and services.

As a lifelong member of Beth Jacob and family that has many generations in the community, I feel that the proposed constitution will allow our Shul the flexibility to meet the needs of our dynamic community. However, a document by itself will not itself fix our Shul's challenges. The constitution will, in my opinion, give our Shul the foundation to build a better future. Your board feels that it aligns our values with our Jewish traditions. BUT it will be up us, our members, to breath life into the Shul and enjoy our resources. As I spoke to our community at Kol Nidre, its our community engagement in our Shul that will dictate our success."

For the PDF copy of the 1987 Constitution, please click below:
https://images.shulcloud.com/96/uploads/BethJacobConstitution1987.pdf
For the PDF copy of the proposed Constitution Amendment, please click below:
https://images.shulcloud.com/96/uploads/DRAFTBethJacobConstitution2020.pdf
Haftorah and DVAR TORAH SIGN UP Sheet
Mon, July 6 2020
14 Tammuz 5780
There are no upcoming events at this time.
---
This week's Torah portion is

Parshat Pinchas
Candle Lighting
Havdalah
Motzei Shabbat, Jul 11, 9:52p
Fast of Tammuz
---
TODAY'S ZMANIM
Netz (Sunrise)
5:48a
Plag HaMincha
7:29p
Shkiah (Sunset)
9:05p
Tzeit Hakochavim
9:58p
More >>
---
Mon, July 6 2020 14 Tammuz 5780